Restaurant Locavore in Ubud (Bali) - An Adventure in Dining
In early December as we were preparing for a Christmas and New Year's trip to Bangladesh and Bali something came in my email that got my attention. It was a newsletter from Trip Advisor listing the
traveler's choice of Top 25 restaurants
around the world. One of them is located in Bali, a restaurant called
Locavore
. Since we were going to Bali we decided to try this much ballyhooed restaurant. No hesitations on our part on this so we went online and booked our seat to try their 7-course tasting menu (they also have a 5-course herbivore menu). This was early December as I mentioned and the only available spot was January 8 (our penultimate day in Bali). People do suggest to make a reservation because for the most part they are booked solid.
I rarely do food/restaurant review/post here. Mostly because I never learned how to photograph food. But allow me to try my hand here, because I really enjoyed my experience here.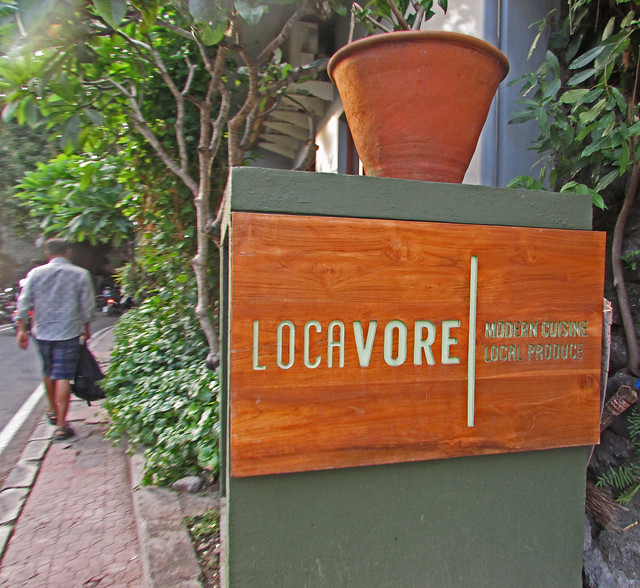 Locavore
is advertised as modern European cuisine using Indonesian/Bali ingredients. While locavorism is sweeping the West, fine dining restaurants in Asia still imports their ingredients, so this restaurant is quite a trailblazer. Located in a quiet part of Ubud in Jalan Dewi Sita, across from a
warung
.
We initially booked for a 6:30 pm seating (the first) but learned when we arrived in Bali that our base in Kuta is an hour's drive from Ubud which would make our arrival back in Kuta a bit late so I emailed them if they could accommodate us for 6:00, and they did.
Our attire was very casual since we were sightseeing in Bali all day long and you know how humid and hot it is in Indonesia. We brought change of clothes, but we didn't need them.
The restaurant is small with open kitchen and a little bit on the dim side. In fact the table next to us (we had the window table) the diners were given a reading light when the menu was brought to them. It was darker than normal.
Our server, bless her heart a very friendly personable woman whose name I cannot remember started us with one amuse-bouche after another.
[Note: both my camera and cell phone were running out of juice after a whole day of photography and no amount of photoshopping can fix some of them.]
Taro chips with poached ginger mousse.
Churros with young goat cheese.
Not photographed because the server came with a box and seating on it are two seaweed tamarind cookies on seaweed tamarind paste. Also served in a separate box was pickled and then grilled shitake mushroom.
Then the server came with a bouquet of wildflowers?
Then she sprinkled salt and sprayed vinegar.
And this was served as the salad. It was delicious, like all the other amuse-bouche.
Potato puree and black garlic with chive and grated garlic. Yummy!
Now onto the 7-course menu.
The menu was given to the diner as souvenir. I appreciated that a lot.
Prawns
(from Parang Tritis, Central Java) cold smoked with lemon balm leaves, sour dough croutons, borage flowers, bisque crustaces vinaigrette, lemon balm creme, celtuce stems and leaves.
Pork
(from Payangan, Central Bali) terrine wrapped in homemade bacon, creme made from braised red cabbage, shaved radishes, Albens apple cider gel, pulled pork bitterball, sweet and sour red cabbage and mustard leaves.
Into the Sawah
Risotto made from hi-grade rice (from Jatih Luwih, Central Bali), snails cooked in garlic butter, 64 degrees (Celcius) duck egg, catfish abon, dehydrated fern tips, wild flowers.
Barramundi
(from Les, North Bali) a la meuniere, beurre blanc made from barbecued barramundi bones, roasted kohlrabi, musroom confit, red wine reduction, cripy oyster mushroom, fresh kedelai, thyme oil.
Then we were served a palate cleanser of passion fruit mousse with ginger meringue foam.
Lamb
Free-range lamb from Wonosobo (Central Java) served two ways, neutral lamb jus, lovage salt, carmelized bangkuong puree, pickled bitter lettuce sauce, shaved bangkuang, dehydrated sea grapes.
Memory Lane
(My mother's apple pie but served a litle bit different). white chocolate and cinnamon Genoise, sultana and rum ice cream, crumble made from apple pie dough, Malang apple and vanilla foam and cinnamon flowers.
Cucumber and mango
Mango panna cotta, pickled and compressed cucumber, white chocolate sorbet, burned harum manis mango, cucumber flower, cucamelon, sweet and sour cucumber gel, mint leaves and sweet aloe vera.
WHAT I THINK
What can I say? The 2 1/2 hour meal was an adventure in dining indeed. The meticulous preparation, the dedication to source local fresh ingredients, the commitment to use every part of the animal, and the brilliant mixture of all the ingredients to make one mouth-watering dish is more than the diner could ask for. It is a bit pricey for Bali, but considering the punctilious preparation and the quality of ingredients, it's worth it. The husband and I were telling each other that if this restaurant is located anywhere in the SF Bay Area, we would be paying triple of what we paid for here.
As a diner one cannot help but have favorites and least favorite when undertaking a multi-course menu. I love all the amuse-bouche that were served "free" of charge. I like everything I had although the INTO THE SAWAH dish that was called a risotto was a misnomer in my opinion. Risotto is creamy with cheese, this was more leaning toward congee, because this is how I fix my congee, with poached egg. Regardless of what it's called, it was yummylicious, for lack of better term. Furthermore, the first dessert, the MEMORY LANE was served full size. Typically in a multi-course tasting menu the servings are smaller. I thought it was too much of a dessert and there was another one following it.
We did not choose to do the wine pairing. Instead we ordered this wonderful floral iced tea, really delicious.
Kudos to the chefs Eelke Plasmeijer (I believe is Dutch) and Ray Adrainsnyah (Indonesian). Two thumbs up!!!!!
OUR WORLD TUESDAY