Run to the Coast When The Heatwave Hits
So the heatwave arrived in the Bay Area this past weekend. It's supposed to abate in all the region of the bay including the inland areas by Thursday.
We are not used to the heat; we can handle the fog and the chill of summer very well, but the heat? Nope. We complain, we whine, we cannot function properly.
So on Sunday, when the temp hit 102 at home, we just had to run to the coast. We loaded into the car and let it drive. The traffic was tight on the way to any beach as expected, but we managed to be patient and just drove.
Everywhere we went was packed; people crawling all over, and every available inch of earth was occupied by a car, no parking in sight. It wasn't until we were on the way home that we found a spot for a little stop and smell and cool breeze. The spot was at Gleason Beach near Bodega Bay.
The Sonoma Coast is very picturesque with dramatic rocky coastline and dramatic cliffs. I'm used to coming here in winter and spring and so it was a joy to be able to bask in sunshine as I look out into the glistening water. The temperature here was 64, 38-degree difference.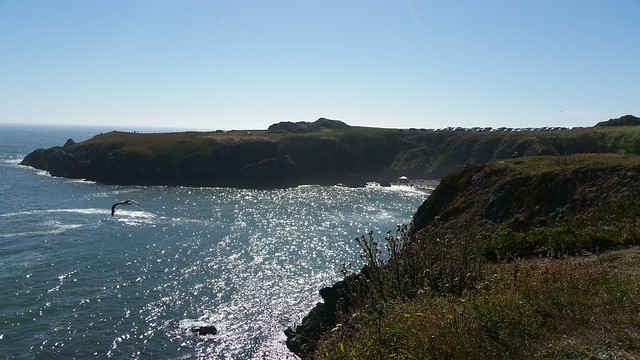 We also wanted to go to Goat Rock Beach, which is one of our fave beaches in the Sonoma Coastline, but it was also packed,so we just got content in snapping a photo.
SKYWATCH
is a weekly gathering of sky lovers and sky watchers. Join us.